Bringing diversity to the Boardroom
19th October 2023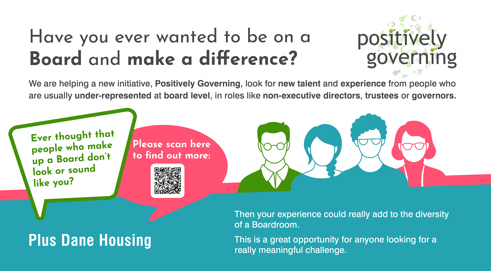 Express interest by Friday, November 3

The first event for successful applicants is November 28
Have you ever wanted to be on a Board of an organisation, and really make a difference? 
We are helping a new initiative in the North West, Positively Governing, look for new talent and experience from people who are usually under-represented at Board level, in roles like non-executive directors, trustees or governors. 
If you have ever thought people who typically make up a Board of an organisation don't look or sound like you, or perhaps have faced racism or other forms of discrimination around your age, class, sex, having a disability, or of being a member of the LGBTQ+ community – your experience could really add to the diversity of a Boardroom. 
If you can give half a day a month over the next year, Positively Governing can give you the skills to help you become highly effective in a Boardroom role, and apply for vacancies in a housing association, voluntary or community sector organisation, charity, school, college, social enterprise, or business. 
They are looking for people from all backgrounds, who are great at working with others to solve problems, spotting opportunities and risks, and asking the questions that help people make better decisions; people with opinions that might be different from others, who can influence people, and find ways of resolving difference. 
Claire Dixon, deputy chief executive at Plus Dane, said: "We are proud to support Positively Governing in its aim to bring more diversity to the Boards of organisations like ours. This is a great opportunity for anyone looking for a really meaningful challenge, who feels their circumstances may have held them back before." 
To be considered for a place on Positively Governing NW 2023/24 you need to provide the following information (on no more than two sides of A4): 
Your name, age, background, and experiences

Any work, volunteering or community activities you do 

Why do you want to be part of this programme?

What would you like to bring to a Board role?

Do you need any support to help with your learning and development?
The closing date to express an interest is Friday, November 3. If you want to know more, get in touch with Mags: email mags@theconnectives.com or call 07852 177 370. 
The first event for successful applicants is face-to-face on Tuesday November 28, from 12pm to 3pm. The location is yet to be confirmed but is likely to be Liverpool or Manchester.