Report a repair
We know how difficult it can be when something goes wrong in your home, and so we'll always aim to get things fixed as quickly as possible for you.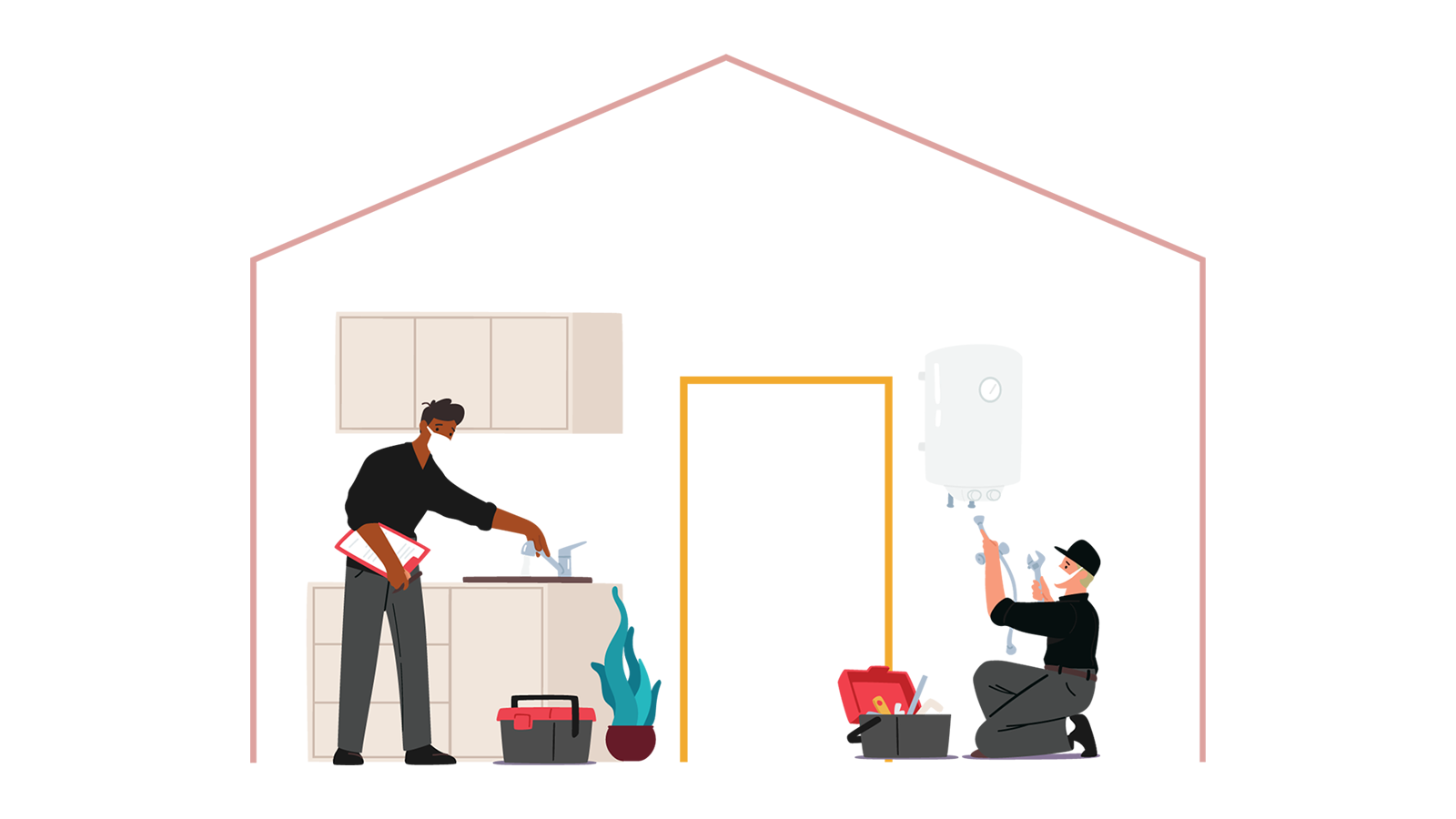 We are currently receiving high demand for our repairs service, so we have made some changes to how we deliver the service in light of some of the challenges we are facing. Find out about our response to repairs here.
The easiest way to report repairs is to use our handy reporting tool below to pinpoint the exact issue:
You can also report a repair by:
Downloading our app by searching 'Plus Dane' on App Store and Google Play
Drop us an email
Call us on 0800 169 2988
Help me fix
Alongside our normal repairs service, we are currently trailing an approach whereby experienced repairs experts can provide guidance to customers over the phone to help resolve simple fix jobs there and then.
It is a great solution for issues such as drops in boiler pressure or other small jobs that just require someone to talk you through how to put it right. It also means you don't have to sit in and wait while a member of the team visits your home to carry out the repair, potentially waiting for weeks for it to be resolved if it is classed as non urgent.
If you contact us with a simple repair, you may be asked by one of our team if you would like to be contacted by this service. If the issue is not able to be resolved during the call, the repairs expert will be able to effectively diagnose the issue so that when we do visit to carry out the repair, we know exactly what the issue is and have the correct equipment to make sure we resolve it first time. 
How to videos
We've put together a series of handy videos to help you carry out simple repairs like unblocking a sink or bleeding a radiator.
Repairs responsibilities
It is important to us that your home is kept in good condition to make sure that they are well maintained, warm and safe.
We know that a good repairs service matters to you and we want to make sure that the service we provide offers value for money and, most importantly, meets your needs.
We are responsible for keeping the structure and exterior of homes in good condition. In shared ownership and leaseholder housing schemes some responsibilities for internal repairs might vary from the ones set out in this table. Please refer to your tenancy agreement or lease for more detail.
This includes:
The roof
Drains, gutters and external pipes
Outside walls, outside doors, window sills, window frames
Internal walls, floors, ceilings, doorframes and skirting boards (but not internal painting and decorating)
External decoration (normally completed every five years)
Chimneys, chimney stacks and flues, including an obligation by law to carry out an annual gas safety inspection of all gas appliances in your home and to make sure that all flue ways are clear and working
Pathways and steps
Plasterwork (not minor cracks)
Integral garages and stores
Boundary walls and fences if they are there when you move in or we build them at a later date
We will also keep any installations provided for space heating, water heating, sanitation and the supply of water, gas and electricity in good condition. This includes:
Basins, sinks, baths, flushing systems and waste pipes;
Electrical wiring, sockets, switches, gas pipes and water pipes;

Water heaters, fireplaces, fitted fires and central heating systems;

Replacement of fluorescent tubes, starters and the installation of gas cookers to make sure you and your home are safe.
You're responsible for the cost of repairs due to damage, as well as any decoration inside your home and the following:
Keep the inside and outside of your home in reasonable condition, including gardens, garage and any outbuildings or sheds
Report any repairs/property defects to us straight away
Get written approval from our Strategic Asset Management team before making any alterations to your home
Allow access to our employees, agents or partner contractors at reasonable times or in an emergency to carry out repairs to your home or any connected homes
Replace plug fuses and standard light bulbs
Make sure any cooker, heater or other gas appliance installed is fitted by one of our qualified engineers
Carry out minor repairs e.g. replace sink plugs, tighten screws, re-fix loose door and window furniture
Shave doors following the fitting of carpets
Replace lost or broken keys
Maintain fixtures and fittings such as curtain rails, and any other belongings that you install
Clear blockages in waste pipes and toilets caused by a lack of care (cooking fat, hair, nappies)
Replace toilet seats
Test any fire detector fitted monthly and replace batteries when needed
Take all reasonable precautions to protect your home from damage by fire, frost or water
Do not store more inflammable materials or gases than needed for domestic use
Carry out repairs to improvements or alterations you have carried out
Keep common areas neat and tidy and free from blockages
TV aerials unless it is a shared television aerial
Maintain individual garden areas, trees and sheds
Repairs needed due to neglect, abuse or accidents by yourself, your family or visitors to your home
If you have installed your own cooker or gas fire, we will carry out an annual gas safety check as part of our responsibility as a landlord. However, if there are any issues with the appliance it is your responsibility to get it fixed.
When leaving your home, make sure that you take all of your belongings with you, clear any rubbish, fix any damage and leave the house in a good and clean condition.
Emergency repairs
We know things can go wrong at any time, so we have an emergency repairs process with a 24/7 helpline.
If you have an emergency repair, we operate a 24/7 out of hours service, open 365 days of the year. 
Some examples of an emergency repair are:
Work needed to avoid immediate risks to health and safety
Where there is extensive damage to the building
Complete loss of heating, hot water or power
A major water burst or flooding
Major structural defects
We aim to respond to emergency repairs within 4 hours.
If you are looking to report an emergency repair, always call us on 0800 169 2988. 
If you think you can smell gas you should call the National Gas Emergency Freephone number 0800 111 999.
Do you smell gas?
Is your carbon monoxide alarm beeping continually? Contact Cadent immediately to arrange an emergency visit on 0800 111 999.
If a gas or carbon monoxide leak is detected, Cadent will cap the gas coming into your home.
If Cadent report that you need remedial work after their visit, it is our responsibility to put this right - please contact us on 0800 169 2988 to report this.