Tenant Satisfaction Measures

The Regulator of Social Housing has created a new system to see how well social housing landlords in England are doing at providing good quality homes and services. This includes a set of tenant satisfaction measures (TSMs) that social housing landlords, including housing associations like us, must report on.
These measures include a set of questions we ask a sample of our customers, allowing you to express how satisfied or dissatisfied you are with services we provide. Earlier this year, we began our tenant perception surveys to collect this data.
Our infographic below shows our most recent results, for Quarter 2 of 2023/24 (July to September):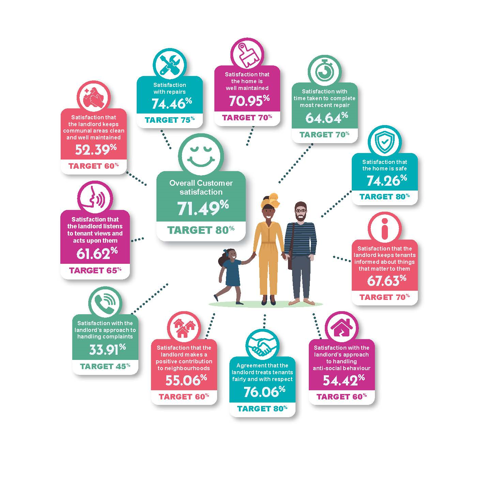 Click on the image above to see a larger version
For more information, the Regulator of Social Housing has published an 'easy read' Tenant Satisfaction Measures booklet, which provides more details on the questions asked and why they have been introduced.
The booklet can be found on the link (click the picture below) and explains how the data is being gathered and presented so you can see how well a social housing landlord is doing: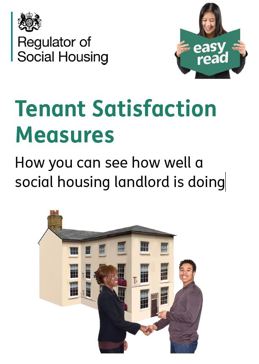 If you are a Plus Dane customer, you may get a call or email from a company called MEL Research who, if you agree, will ask you these questions on our behalf.
MEL Research will always email you from survey@melresearch.co.uk or call you from 0121 790 0129. They will let you know how much of your time the survey could take before you begin, we estimate this to be around 5 minutes. We want our customers to stay safe online and we have a page on Online Safety here
Your privacy is especially important to us, and your personal data will be protected while conducting all our surveys. You can find MEL Research privacy policy here and ours here. If you would prefer not to take part, please let MEL Research know and they will make sure to remove you from our contact list for future surveys. You will also be given the option to remain anonymous or you can consent to provide your details along with your feedback.  
Once we have received your feedback, we will then publish our full TSM results on this web page every quarter.
We value your feedback and use this to improve your home and provide better services. Some of the improvements we have made following your feedback can be found under this section You Said We Did, linked here.