What is Universal Credit?

 
Universal Credit (UC) is a payment to help with your living costs. It has replaced Housing Benefit, Income-based job seekers allowance, Income-based employment & support allowance, Income support, Child tax credits and Working tax credits. You may be able to get it if you're on a low income, out of work, you cannot work or depending on the make-up of your household.
Universal Credit will be paid to you in a single monthly payment, broken down into two separate elements: 
Personal element – This helps to cover everyday living costs for you and your family
Housing element – This is the money that you need to pay to your landlord for your rent
Universal Credit will be paid in a single monthly payment. This includes a basic allowance for your everyday living costs and different elements for things like:
Housing costs to help towards your rent
Children and childcare costs
Sickness, disabilities and caring responsibilities
If you are working and not in receipt of any Universal Credit, but are unsure if you would qualify, the table below gives a few examples of different family circumstances and the levels at which you would still qualify for Universal Credit: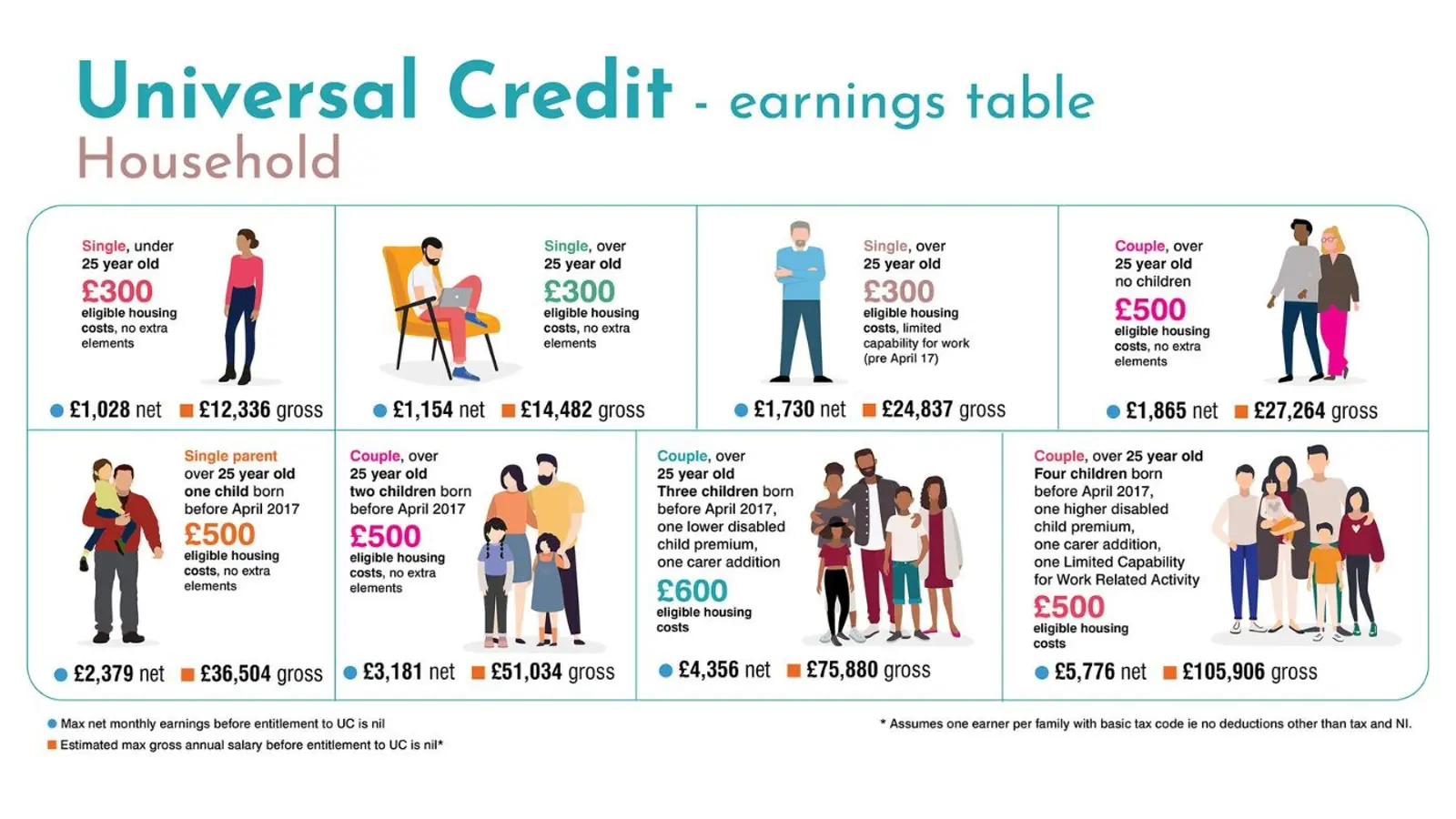 Managed Migration to Universal Credit
We are currently in the transition period from benefits to Universal Credit, called Managed Migration. Everyone of working age will have to move over to Universal credit by the end of 2024. However, you can move over sooner if you are better off on UC. If not, we advise you to wait for your UC Migration Notice Letter from the Government. Some of our customers in Cheshire may have had your letter already or will get it very soon.
Some people/households will be better off when they move across, but some people will not. Be sure to get advice before you switch as you can not go back once you have moved across.
Click here for a detailed guide on Managed Migration with all the information you need.
There is also information here on what steps to take if you're currently on Tax Credit, and what to do when you receive your Migration Notice letter.
I've just received / filled in my Tax Credit renewal pack – do I still need to make a claim for UC?
You will need to complete and return your Tax Credits renewal as normal. If you have also received a Migration Notice, then you will also have to make a claim for Universal Credit. Timing of that claim can be important – so speak to a Benefits Advisor.
There's a leaflet about Universal Credit in my Tax Credit renewal pack—is this my Migration Notice?
No. This leaflet is not your Migration Notice. The leaflet is to raise awareness that some people may be better off on UC. If you think this could be you, get advice before
making the claim, there's more you MUST think about.
I've not had a letter about the move to Universal Credit, but a neighbour has, should I just make a claim?
You do not have to do anything until you personally receive a letter from the DWP informing you that you need to claim. If you claim UC before you receive your Migration Notice you will not be entitled to any Transitional Protection that you could have been entitled to. Some people may be better off on Universal Credit and want to claim as soon as possible, but there is lots you MUST think about before making a claim. Always speak to a Benefits Advisor before making a claim for UC.
I've received a letter but I'm not sure if it is a Migration Notice
If it gives you a date by which you must claim Universal Credit, then it is a Migration Notice. At the bottom of each page of the letter it will state: 'This is a migration notice
issued under regulation 44 of the Universal Credit (Transitional Provisions) Regulations 2014.' If you are still unsure, seek advice.
I've received my Migration Notice but I'm going to struggle to make a claim before the date in the letter – what should I do?
Contact the UC Migration Notice Helpline, explain why you are going to struggle and request an extension. They can give you an extra 4 weeks in which to claim.
I've missed my deadline / my Tax Credits have stopped – what should I do?
If you need the financial assistance Tax Credits have given you, then you will need to make a claim for Universal Credit. If you make your claim within a month of your 'deadline day', your UC claim will be backdated and there will be no gap between your Tax Credits ending and UC starting (and you could still receive any Transitional Protection you are entitled to). If it is over a month since your deadline, claim Universal Credit as soon as possible (note: there will be a gap in your entitlements, and you will not be entitled to Transitional Protection).
An online calculator says I'll be worse off on Universal Credit / not entitled to any – do I still have to claim?
Yes – but your entitlement may be different to what the calculator told you! Where the DWP sends someone a Migration Notice meaning they have no choice but to claim UC, the DWP do not think it would be fair if the change made them immediately worse off. So, they have put in place some Transitional Protections to prevent this from happening in most cases. Online calculators do not always account for these protections.

If you receive a Migration Notice and make a claim for UC by the deadline given, you could be entitled to a Transitional Protection. There are different types of protection. The first allows some Tax Credit claimants to claim UC where they would not normally be entitled – those who have capital over £16,000 and some students. The second increases the amount of UC initially awarded so it's closer to the claimant's Tax Credits entitlement – by including a Transitional Element in the calculation.
I've been told that I will be entitled to Transitional Protection, do I need to make a claim for this separately?
No. If you make a successful claim for Universal Credit by the deadline given in your Migration Notice and are entitled to some protection you will receive this
automatically.
I've been told that I will be entitled to Transitional Protection – how long will it last?
Certain changes in circumstances will end the protection. Additionally, the amount of Transitional Element you receive can reduce. Speak to a Benefits Advisor for more information.
Applying for Universal Credit
There is lots of help available to support you with a Universal Credit application. Please ask for advice from the Plus Dane Income or Welfare teams or from the Citizens Advice Bureau (CAB) before you apply.
If you haven't already, the first thing you should do is check you're eligible for Universal Credit.
Application for Universal Credit is done online. The first thing you need to do is set up an online account. This will be needed to apply and manage your claim. Find out more about starting your claim and setting up an online account.
Before making a claim you will need the following so that you can receive your UC payments as soon as possible: 
Access to a computer and the internet – To make and manage an online claim 
An email address – To register and receive updates regarding your claim 
Details of your household members – Dates of birth are required 
Verification – As part of the claim you will need to verify yourself with the DWP – further information can be found here
A bank or credit union account – To receive your UC payments into and to set up regular payments to your rent account via direct debit or standing order
A copy of your tenancy agreement – To provide proof of your rent and/or service charges 
Your claim can take up to 5 weeks after providing all the supporting evidence needed. During this time you can apply for an 'Advanced Payment' which will be equal to your monthly payment (you can pay this back over 12 months). Find out how to apply for an 'Advanced Payment' here. 
You may also be entitled to a 2 week 'run on' of Housing Benefit payments to help reduce any rent arrears on your account – maximum Housing Benefit will be paid minus any deductions for spare bedrooms and non-dependants. 
If you are moving between Local Authorities this 'run on' will be paid by your old Local Authority, it is important that you contact them to request the 'run on' which may be paid directly to yourself. 
Citizens Advice Bureau
You can read a step-by-step guide from CAB here: Universal Credit - Citizens Advice
You can call the CAB Help to Claim Advisors on 0800 144 8444. The CAB Help to Claim phone service is free to use and is open 8am to 6pm, Monday to Friday.
Plus Dane Support Team
If you would prefer to talk to our support team here at Plus Dane, call 0800 169 2988 and ask to speak to the Income or Welfare team about advice on Universal Credit application.
Try our Benefits Calculator to help you figure out what you may be entitled to.
We also have a Budgeting Tool to help you maximise your income and keep track of your outgoings.