Plus Dane is governed by a board comprising of twelve non-executive members supported by six independent committee members. 
Members have various skills from across a number of industries, in line with our board skills competency framework and aligning to our equality, diversity and inclusivity framework.
There are four Committees that support the Board, which comprise of Board and Independent Members. The Board is also supported by the Customer Assurance Panel who looking at issues that affect customers so that we can improve the customer experience and be the best we can be.
You can find out more about the Customer Assurance Panel here.
The Committees are Audit and Assurance, Foresight, Purpose and Chairs' Committee. See the full Board structure: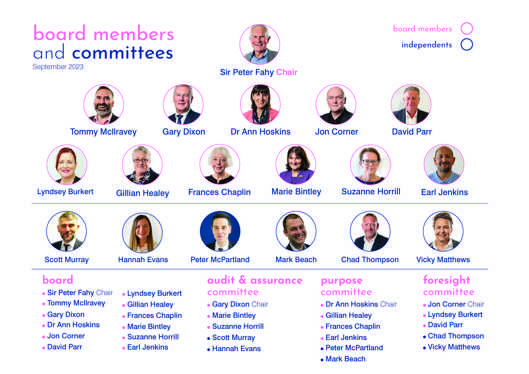 Role of the Board
The purpose of the Plus Dane Board is to determine the strategic direction and policies of the organisation and to scrutinise and control its work in an effective way, holding the senior staff to account.
The Board's functions include:
Setting the strategic direction for Plus Dane
Setting the annual and long term objectives of Plus Dane and determining its values.
Ensuring the affairs of Plus Dane are conducted lawfully and are in accordance with generally accepted standards of performance and adhered to throughout Plus Dane.
Ensuring diversity and equal opportunities are promoted and policies are adhered to throughout Plus Dane.
Ensuring that Plus Dane complies with its legal responsibilities.
Meet our board and Committee Members