Our biggest ever winter campaign
19th December 2022
Christmas can be a tough time but this year with the increases in food, fuel and energy prices it is going to be very hard for many. Our winter campaign aims to make a difference to customers who may be struggling with the pressures of the time of year and the cost of living crisis.
It is made possible through the help and support of our partner organisations and contractors, who have given generously to help provide everything food parcels and children's toys to social events and warm hubs.
These include Penny Lane Builders, Bell Group, Sustainable Building Solutions, Frank Rogers, Consortia UK, Mission Christmas and Radio City's Cash for Kids.
More than 300 households have received tailor-made assistance, including food and toy hampers, food bank vouchers and help with energy costs.
A charity raffle at a recent Plus Dane employee event, with prizes again donated generously by partner organisations, raised a further £1.5k for the campaign, and in addition colleagues have collected for local foodbanks and toy appeals.
Contractors have given generous cash donations totalling an amazing £22,000 to help fund the winter campaign, as well as much-needed items to be distributed to customers like slow cookers.
To help combat loneliness and isolation, residents in our schemes for older people across Merseyside and Cheshire have been getting together for special Christmas parties, and Christmas lunch is being provided to those living in temporary accommodation.
We have been involved in opening up some of our community spaces as warm hubs, and made an interactive map to help people find them and others in their communities. 
Emma Sneyd, our head of engagement and partnerships, said: "We are so pleased at what we have managed to achieve by working together to help our communities through what is bound to be a hard winter for many.
"We are very grateful to our partners and contractors who have so generously supported the winter campaign and enabled us to deliver so much to help individuals and families in need this Christmas.
"Thanks also to our colleagues who have volunteered and given their time to help distribute food and toy parcels, catering and taking part in our events in our schemes, and more besides.
"It is a hugely challenging time of year and we are proud we have been able to help hundreds of people who may have gone without this Christmas."
Plus Dane customers can contact the Engagement and Partnerships team all year round for more information on help and support available, from access to food bank vouchers to help getting back into work and training. To find out more, please email engagement&partnerships@plusdane.co.uk.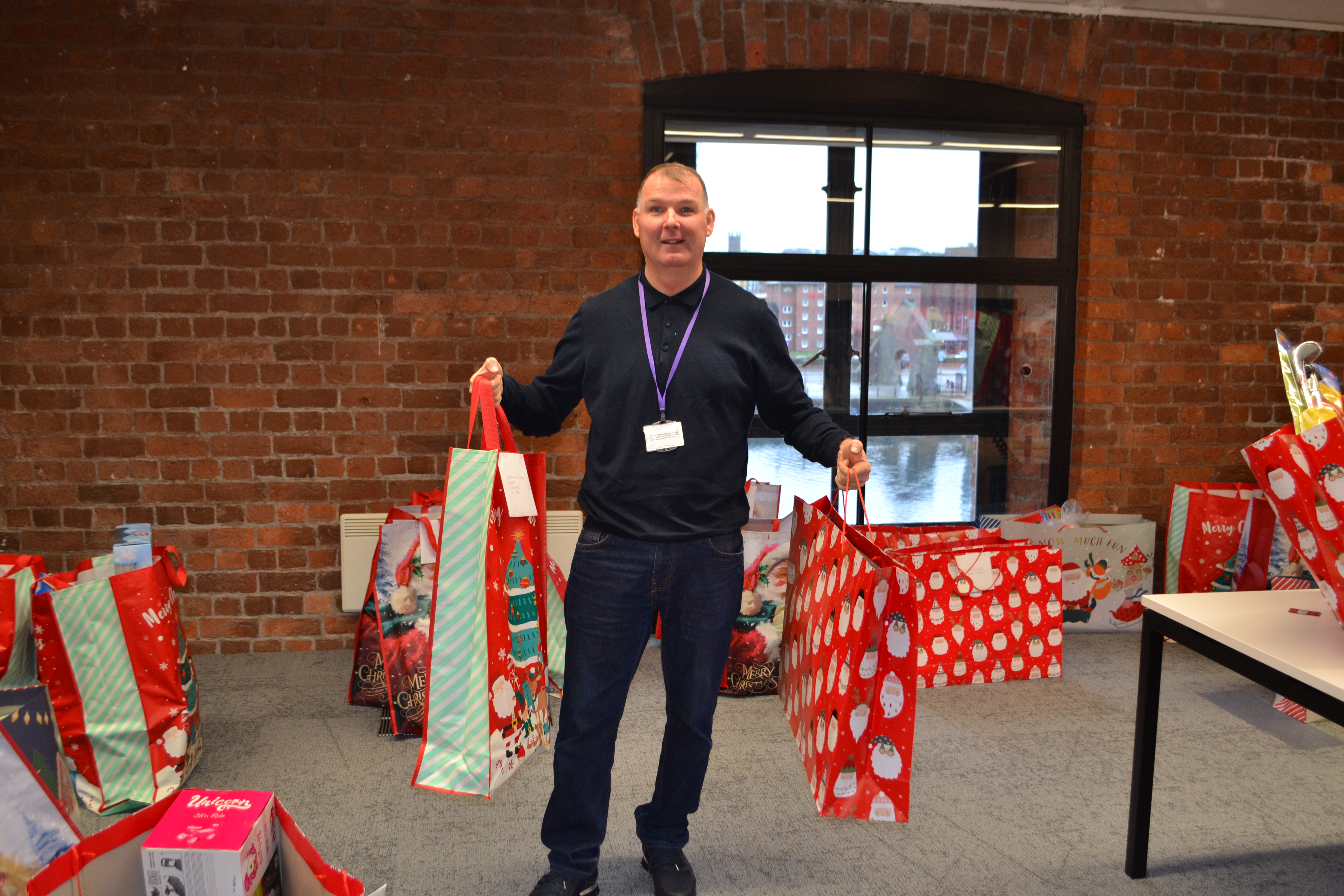 Picture Caption:
Ken Jones, a painter at Plus Dane, gets ready to deliver bags of toys to customers for Christmas.